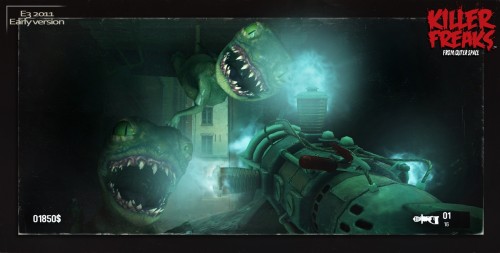 Only recently, Ubisoft revealed that they would be backing Nintendo up with all their might for the release of the Wii U, promising two brand new IPs on top of the other titles planned for the system.
Now Ubisoft have been kind enough to reveal one of the two new IPs, Killer Freaks From Outer Space, which will be a launch title for the Wii U. Playing as one of the last survivors, it's kill or be killed, and you must eliminate the Killer Freaks. Failure in this task results in the extinction of the human race, so only you can decide whether its legacy continues.
The trailer features a Londoner with a strong accent heading out on to the street and encountering a group of the monsters. Sweary, scary action ensues, so despite the misleading title hinting that it could be toying with words and actually be a kids game, this is most definitely not one for the kids.