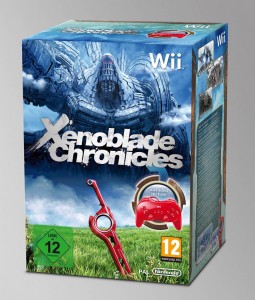 Despite it having only recently been announced that the game wouldn't be coming to the Americas, Nintendo have pressed on and have revealed details of a classic bundle which will also include pre-order bonuses, exclusive to Europe.
The bundle will consist of a copy of the Role-playing game along with a red Classic Controller Pro, also featuring a reversible cover including the alternative cover artwork chosen by fans in a recent online poll. Fans will also receive three exclusive posters electronically signed by the founder of Monolith Software, Tetsuya Takahashi.The three exclusive concept art posters depict the vast landscapes and characters of Xenoblade Chronicles.
Xenoblade Chronicles is also available to buy or pre-order as software only. To pre-order your copy of the Xenoblade Chronicles bundle and to receive your special pre-order items, place an order at GAME or gamestation before the game is released across Europe on 2nd September, 2011.