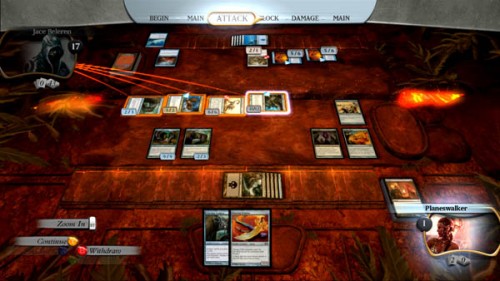 Magic the Gathering is well known as one of the largest and most popular card games in the world. Unlike Pokémon and Yu Gi Oh, the game has been able to stand up on its own without the help of an anime background. Generally catered towards an older demographic of players, the game is well loved by collectors and competitors alike.
Back in 2009, Wizards of the Coast released the first Duels of the Planeswalkers game to mixed reviews from the gaming community. While the game was well enjoyed by gamers new to playing competative card games, some hardcore fans of the long running series criticised it for being too easy, and for having too many limitations on deck customisations. To be fair, only a small handful of decks were available to play with, and the ability to obtain new decks or rare cards was limited by how much one was willing to spend Xbox Live points on. The other major criticism was that the game seemed to be stuck in the slightly outdated 2009 core decks which were rapidly superseded in strength and effectiveness by the succeeding series, such as "Rise of the Eldrazi". However, for a console based port, I think it did the best it could with what it had at the time. Overall it was a pretty good game, and something solid and intellectually stimulating when I was looking for a change of pace from the mainstream FPS games.
Now, in 2011, Wizards of the Coast is now releasing a new updated version of the 'Duels of the Planeswalkers' games, to be released today! Check out the official information post below: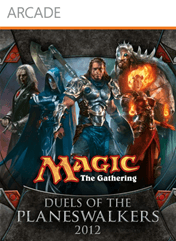 "Gather your allies for a new battle, as Wizards of the Coast returns to Xbox LIVE Arcade with a brand new "Magic: The Gathering" game. Starting June 15, face off against powerful Planeswalkers with brand new decks in "Duels of the Planeswalkers 2012." Features will include:
Modify your deck for your own play style: Players can add or remove cards from both starting cards and earned unlocked cards for each deck.
Gather your allies to face new Archenemies: In the new Archenemy format, you and two allies (players or AI) must work together to take down a powerful Archenemy and survive the extra powers from the Archenemy's special scheme deck.
Fifteen puzzling challenge levels: Puzzles are back and better than ever with difficulties ranging from easy to (really) hard including new Archenemy challenges.
Three- and Four-Player Enhanced Co-op Play: For the first time, players can invite their friends anywhere in the world to partner up with them to take on the Archenemy or play against live opponents in Two-Headed Giant competition.
Players that download Duels of the Planeswalkers 2012 will receive a voucher for an exclusive titan promo card which they can redeem in participating stores (while supplies last). Duels of the Planeswalkers 2012 also features ten new decks using cards from the latest Magic: The Gathering expansions, including your first chance to play with cards from the Magic 2012 Core Set that releases on July 15th.
Fans will be able to grab "Duels of the Planeswalkers 2012" when it hits Xbox LIVE Arcade on June 15, 2011 for 800 Microsoft Points."
This promotion of a new game seems promising. I like that they've decided to release this as a brand new title, rather than put out a bunch of additional and expensive DLC packs. Additionally I'm liking the additional deck options that will be available to players. As a player that typically plays with a deck combination of Red and Green based cards, I would love to see the 2012 core decks introduce something that really fits my play style, or at very least offer the customisation options to construct the kind of deck that I would use. Heck, a chance to even see and use the 2012 core decks before they're released next month is exciting in itself.
The plot and "archenemy" outlined in the description will likely be one of the major plagues or villains from the past 3 years in terms of MtG lore. My guess is that with the recent release of the "New Phyrexia" decks, we're likely to see a planeswalker who specialises in undead machines to take up the antagonist mantle from 2009's villain: Tezzeret.
But by the feature I like the most from this: 4 player and co-op play enhancements. As a player who has a group of 4 friends, including myself that play regularly, this feature will allow players who enjoy playing just for fun with friends to really engage with the MtG universe in a whole new way. Most likely in the form of 2v2 two-headed giant matches. Sufficed to say, I'm eager to see what's been changed around.