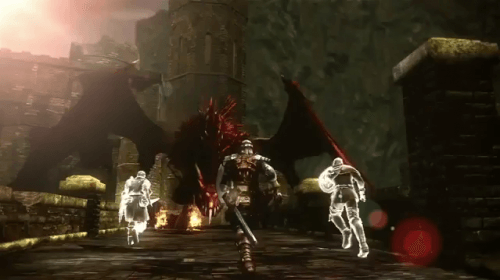 For those who love entering contests and who are highly anticipating Dark Souls, this bit of news should catch your interest. The Dark Souls Facebook page is offering a pleasant time killer in which your creativity can be rewarded greatly. What do you have to do? Create a shield using one of three templates provided and simply enter it in to be voted on by the fans of Dark Souls. The three winners will see their design in the actual game as Dark Souls post-launch content.
Here are all the official rules/details on how you can get in on this fantastic opportunity:
How to enter:
●      Become a fan on the official  Dark Souls Facebook page at  www.facebook.com/darksouls
●      Download the blank shield templates
●      Create up to three original masterpieces of heraldic design
●      Submit your finished designs via Facebook on or before July 13th 2011
Fans will be able to vote for their favourites on Facebook throughout the competition, with voting open until July 20th to allow last minute entries time to gather votes.
The top ten designs for each of the three shield templates as voted for by you will then go to FromSoftware for the final decision, with the winning designs being announced via Facebook on 28th July 2011.
Each of the ten winners will receive a copy of  Dark Souls signed by game director Hidetaka Miyazaki. The final 3 winners will see their designs brought to life for all time in the  Dark Souls universe, and will receive a signed copy of the limited edition game plus their names in the game credits, ensuring immortality no matter how many times they die while playing.
Sign up today for this unique opportunity to carve your name indelibly in  Dark Souls lore and earn the envy and respect of legions of fans around the world.  To read the full rules and enter the competition, go to  www.facebook.com/darksouls.
And there you have it! Simple as that. In my opinion these prizes are incredible as each winning design will be used by all of the players of Dark Souls post-release, making the grand prize rather priceless (Of course those autographed copies of the game are also a nice incentive). Now get to it! If you enter, make sure you share your creation in the comments section below.