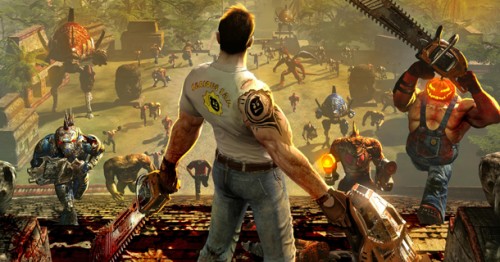 Croteam and Devolver Digital have all things Serious Sam on steam marked down by 75% on Steam RIGHT NOW! This has apparently caused financial executives at Devolver Digital some serious tension. "I can't believe you idiots are selling some top-tier premium content like Serious Sam HD for a few bucks," said Fork Parker, Devolver Digital CFO in a press release. "I've been known to pay more than that for a tug job out behind the racetrack." The sale has been going on since the 12th of May, and finishes tomorrow, on the 16th of May. As a result so far, Serious Sam is now two of the top five sellers slots on Steam. Seriously!
Prices via Steam goes as follows:
Serious Sam HD: The First Encounter: $3.75
Serious Sam HD: The Second Encounter: $4.99
Serious Sam HD: Gold Edition (includes both HD & classic versions of both First & Second Encounters): $9.99
According to the press release from the company, Serious Sam is not just dropping his price for this short period, but apparently he's dropping panties as well. But as we say here on the internet, "Pics or it didn't happen!"
When asked to comment on the price drop, Croteam Lead Designer Davor Hunski responded. "Please leave me alone, we're working on Serious Sam 3: BFE." Serious Sam 3: BFE is due for a late serious summer release.