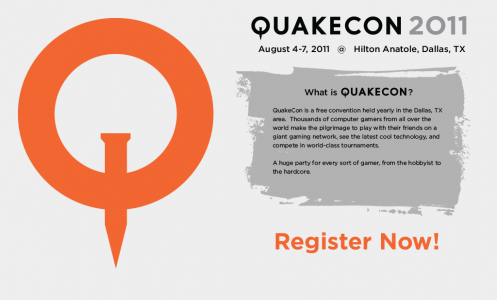 Online pre-registration for QuakeCon has begun for the year! While the event is free for all attendees, there are special things that happen for those who pre-register!
The event is going to take place at the Hilton Anatole Hotel in Dallas, Texas on the 4th of August at 10:00AM until the end of the 7th August, 2011.
There are three premium packages this year for the convention, which are: BYOC -Select-a-Seat package, Swag pack and the QuakeCon Done Quick Pack. The first package runs at $20 which allows you to reserve a seat in the BYOC area, as well as giving you some merchandise. The next is a little more expensive at $35, but you also get a bit more with a couple of t-shirts, a lithograph and some zipper-pulls. The last of the packages costs $50 and includes guaranteed reserved seating in the BYOC area, express access to panels and speakers, reserved seating at panels and some nifty goodies!
Be sure to attend QuakeCon this year, as it is known to be an entertaining outing!
Make your bookings NOW at the QuakeCon website!
Quoted ticket types –
The premium packages are:

BYOC Select-a-Seat Package – $20 USD

•         Select and reserve the guaranteed seat of your choice in the BYOC area

•         An official QuakeCon 2011 BYOC t-shirt

•         A special art of RAGE mouse pad

Swag Pack – Cost $35 USD

•         An official QuakeCon 2011 attendee t-shirt

•         A RAGE Wingstick t-shirt

•         A Skyrim lithograph signed by the team at Bethesda Game Studios

•         A pack of RAGE, Skyrim, and Prey 2 zipper-pulls

QuakeCon done Quick Package – $50 USD (Limit of 200 packages available on a first-come first-serve basis)

•         Select and reserve the guaranteed seat of your choice in the BYOC area

•         Express lane fast-pass registration for the BYOC

•         Express lane fast-pass to every speaker, panel, and public event at QuakeCon

•         Limited reserved access seating for all panels, presentations, and events

•         A special art of RAGE mouse pad, individually numbered and signed by Tim Willits, Creative Director of RAGE

•         A limited edition QuakeCon 2011 zipper-pull