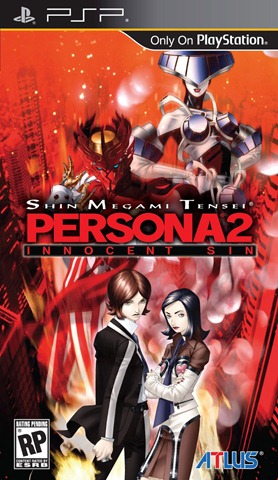 The Shin Megami Tensei series is one that has done surprisingly well in the US marketplace considering it is hard for JRPGs to usually obtain a foot hold in the market. And it seems Atlus USA is going to be rewarding fans for their devotion to the series by bringing over the PlayStation Portable version of Persona 2 Innocent Sin. The title was released in Japan last month and now US residents will be getting the title in the Fall.
This news comes from the creation of the game's official website by Atlus and with it also comes a whole slew of additional content such as the boxart you can see to the right, the screenshots released below as well as the opening movie for the game. The website itself says that you can also pre-order the title now but unfortunately you cannot at the moment. Amazon does however list a release date of September 20th which can only be taken as potential at the moment.
I hope that Atlus is prepared to sell a lot of these titles because the Shin Megami Tensei series is perhaps the second most popular JRPG franchise short of Final Fantasy in the United States and it would be a large disappointment to fans if they ended up selling out. Mostly due to the fact that the original Persona 2 on the PlayStation never was localized, meaning this will be the first time that players will get their hands on an official translation of the title.
[nggallery id=275]