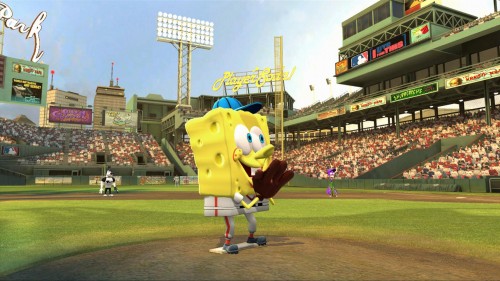 Yes, you heard that right. We have seen many games featuring the ever popular Nicktoons, but now it looks like Spongebob and company are ready to strap on a glove and play "America's favorite pastime". 2KPlay Announced Nicktoons MLB today, which will mix Nicktoons such as SpongeBob SquarePants, ZIM, Dudley Puppy, Fanboy, Chum Chum, and Ren and Stimpy, along with professional players from 30 different teams on the Xbox 360 with Kinect, Nintendo Wii, and Nintendo DS.
2K Play & Nickelodeon both had a statement on the announcement of this new toony title:
"The Nicktoons are an animated bunch and it's no secret they have been petitioning our office to facilitate this unprecedented match up," said Steve Lux, Vice President for business development of 2K Play. "Whether an extraterrestrial from Planet Irk, superheroes who wear underwear on the outside of their costumes, or a secret agent dog, time will tell if these heavy hitters have the grit to play in the big leagues."
"Our Nicktoons stars are taking the field and plan to 'go yard' against the best players in Major League Baseball," said Shaan Kandawalla, Vice President of Digital Retail Games for Nickelodeon/MTVN Kids and Family Group. "Nicktoons MLB will introduce a whole new rivalry on the baseball diamond and mark the first time our popular animated characters and MLB's players will be featured in the same game."
This certainly is a different direction for the standard sports fare and if Mario can do it, I guess why not the toons we all grew up on? Of course there are a few that I don't really know myself mixed in, but here is to hoping we will see an appearance from "Patti's Pulverizers" (which has about a 1% chance of happening, but props for anyone who can match the reference). High Voltage will be working on the console version of Nicktoons MLB and Black Lantern Studios will be giving a hand with the DS release. Nicktoons MLB officially releases this summer and it certainly will be interesting just how this title pans out, so we will keep you updated when more is released over time.