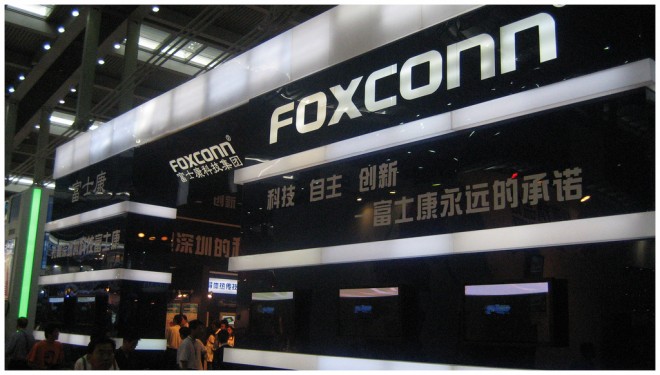 Please note this is not an Apple factory but one of its Chinese suppliers
Foxconn, one of Apples major suppliers of the much sought after iPad and iPhones has taken the extreme measure of making its employees sign a contract preventing them from committing suicide. Reports have recorded at least 14 known suicides in under a year and a half with many more interventions and survived attempts. Horrendously poor work conditions have been blamed for the unfortunate events. Employees must also sign away their family's rights to appeal for large compensation in the event of such an incident.
Research carried out by the ultra reputable Sacom found payslips showing workers performing overtime at 3 times the legal limit, allowing 1 day off a fortnight in peak demand periods, being ridiculed, banned from talking and made to stand for entire shifts. Many workers only see their families once a year and are holed up in dormitories with 24 others in a room. The average wage is a meagre 5 pounds ($10 AU) an hour, sorry I meant day!!! The company has even had to go to the extreme of putting safety nets at the base of the dorms to catch any staff who may wander through a window. Sorry it's not humorous but you have to know something's up when you need safety nets.
In response Foxconn has admitted they break all overtime laws, even accusing employees of suicide to secure large compensation for their loved ones. While they say they are trying to rectify the problems, staff are basically treated like robots with no social lives outside the factory.
This was Apples response a year ago to the suicides that were occurring even back then, "We are saddened and upset by the recent suicides at Foxconn. We are in direct contact with Foxconn senior management and we believe they are taking this matter very seriously. A team from Apple is independently evaluating the steps they are taking to address these tragic events and we will continue our ongoing inspections of the facilities where our products are made."
Foxconn are still clearly breaking Apples supplier conduct laws and hopefully in light of these ridiculous demands placed on their workers will be forced to take action. Unfortunately this would not be an isolated event with major companies all around the world trying to bring new technology to market at the cheapest price meaning they have to outsource the production offshore to those who provide the cheapest offer.