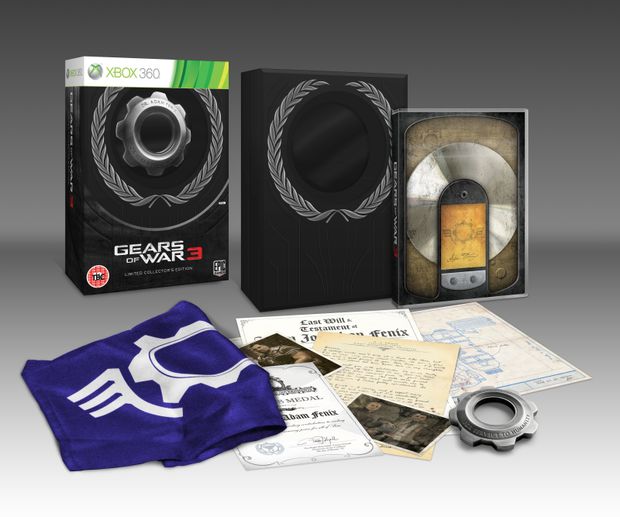 Now any fan of Gears of War shoul know that the title is coming out later this year, and I'm sure that you have already set aside money or pre-ordered the game from your retailer of choice, but you may want to put a few more dollars into your reservation fund because Epic and Microsoft announced today that they will be releasing two special editions of Gears of War 3 when it hits stores.
The two special editions will run $150 for the Epic Edition and $80 for the Limited Edition. The Limited Edition (seen above) will contain a COG Service Medal, a COG flag, an exclusive Adam Fenix multiplayer skin as well as a few Fenix family documents that you can read over.
The more expensive Epic Edition (seen below) contains everything that the Limited Edition does plus more than a few extras. It will contain an 11 inch Marcus Fenix statue that any Gears fan would love to have sitting on their desk, a 96 page book written by Tom Bissel that talks about the art and design of the shooter as well as more documents of Fenix's and an Infected Omen weapon skin pack. These special editions are quite impressive and it shows that Microsoft is really standing behind creating statuettes of their exclusive characters after the release of the Halo: Reach Legendary Edition that contained the Noble Six team statue.