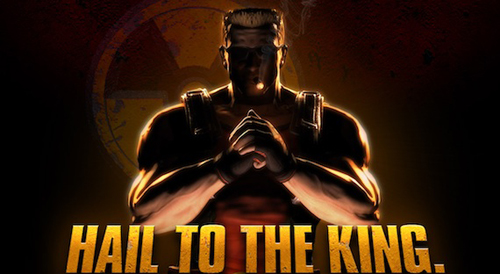 Is that a Duke in your pocket or are you just happy to see me? 2K Games and Gearbox Software just announced that the Duke Nukem Forever Soundboard app is available on the iOS App Store. The perfect compliment for those awaiting the return of the King this June.
The Duke Nukem Forever Soundboard app bestows anyone with the power of a huge array of Duke-isms anywhere, anytime they want. No more boring midday board meetings, no more unsettlingly quiet shopping lines at the super market, no more politically correct nonsense stuffing up your entire day! Just inject Duke's patented inappropriately appropriate one-liners, brazen insults and audaciously truthful claims and you're good to go.
The Duke Nukem Forever Soundboard app features over 25 classic Duke-isms including silky smooth seduction lines sure to impress the ladies like "I've got balls of steel" and "Anybody mind if I take off my pants?". If that doesn't have you dripping with desire, the app will also include such lecture monotony busters as "I had eggs for breakfast,your mom had sausage" and stand-up to bullies anthems like "my job is to kick ass, not make small talk".
The Duke Nukem Forever Soundboard is currently available for zero dollars and zero cents in the iOS App Store.