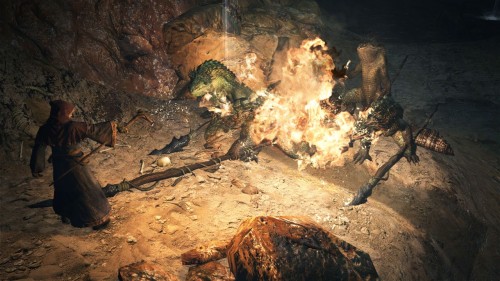 Dragon's Dogma is Capcom's latest endeavor into the RPG world and it will allow players to make their characters and select which class they want to play as they enter the world. The first classes revealed by Capcom are the Fighter, Strider and Mage class. Alongside these reveals are a few screenshots for each class showing how they will look in combat as well as some character art.
Fighters are adept at close range combat and have extensive knowledge with their swords and weapons. Striders on the other hand are agile characters that keep their distance and use a bow as their main weapon, but are fast enough to run circles around enemies in close quarter combat. Mages are masters of the mystic arts and can use a variety of different spells to dispose of enemies infront of them.
For the most part these classics are all self explanatory and are your standard RPG class affair except with a name change from Archer to Strider. Dragon's Dogma will be released early next year on the PlayStation 3 and Xbox 360 and with more classes on the way hopefully there will be some new ground broken with DD.
[nggallery id=268]