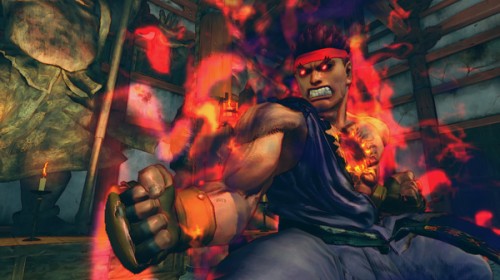 Street Fighter fans rejoice as the long speculated rumors of Super Street Fighter 4 Arcade Edition are true. Also confirmed is that the content will be downloadable, so no need to go out and have to buy a new copy of AE. SSF4AE will feature 4 new characters as well as many new features. It will hit on June 7th worldwide with a price tag of $14.99 US
PC fans don't haveto feel left out as a PC version was also confirmed although no release date or price was mentioned. Brush off those arcade sticks it's a good day to be a fighting game fan.
Check out the details and video below :
Features
• New Playable Characters: Four new challengers enter the ring: Yun, Yang, Oni andEvil Ryu.
• Updated Character Balancing: Features all new character balancing, further refining gameplay.
• Updated Replay Channel:
– Replay Follower: Be able to follow up to 5 separate player replays making it easier tofind your favorite players' latest replay.
– My Channel Advanced: Allows players to distribute their replay data to up to 50 players.
– Elite Channel: Watch replay data from elite players who have a rating of 3000PP or more.
• All playable SSFIV characters will be unlocked out of the box, including Yun & Yang, Oni, and Evil Ryu.
Genre: Fighting
Platforms: PS3™, Xbox 360®, PC "Games for Windows®"
Release Date: Summer 2011
Rating: ESRB T (TBC)
Developer: Capcom
Publisher: Capcom