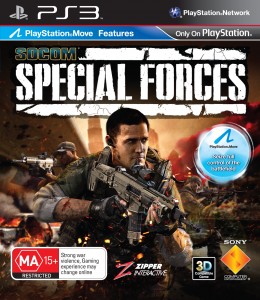 SOCOM: Special Forces arrived on the PlayStation 3 yesterday, the latest instalment of the multi-million selling, critically acclaimed SOCOM franchise. In this title, player pick up their guns as an elite commando unit on a covert operation in the depths of Southeast Asia, with just six days to capture the leader of a militant terrorist organisation known as Naga, which is attempting to destabilise the global economy. Players get the latest high tech weaponry, intelligence and air support at their disposal and it is exclusive to the Playstation 3. With intelligent AI, a major focus on teamwork and issuing strategic orders and stealth, SOCOM: Special Forces comes with 3D support and Playstation Move features, as well as a deep online multiplayer mode, with co-operative multiplayer, including options such as custom missions and the ability to create your own co-op campaign. Are you ready to take command? Expect a Capsule Computers review soon!
Sony Computer Entertainment Australia also announced the following today, and it's sounding pretty cool!
Ever wanted to see your face in your own personalised videogame trailer? Now's your chance, so grab your webcam soldier, it's time for you to move into the action. What are you waiting for? Visit 'SOCOM Warface' at www.facebook.com/PlayStationAU
I dunno about you guys, but Im picking up my webcam for this, and while Im at it, I might grab a copy of SOCOM: Special Forces as well!