Featuring 4 player mayhem, Red Faction Battlegrounds has finally hit the PSN network and should be available for download sometime today. The game is played from a slight aerial view, but from the screenshots seems to also have elements of controlling a vehicle in a FPS. And awesome news for those with a 3D setup is that the game is completely 3D enabled.  Players will control a multitude of up to 8 vehicles in an attempt to destroy enemies in team based or free for all encounters.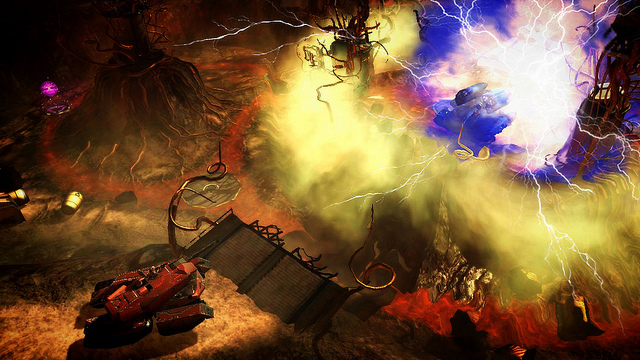 The game is set in the 50 year gap period between Red Faction Guerrilla and Armageddon, where players will battle across a Martian environment complete with new enemies and featuring the typical destroy everything in your way shooting style we have grown to love from Red Faction titles.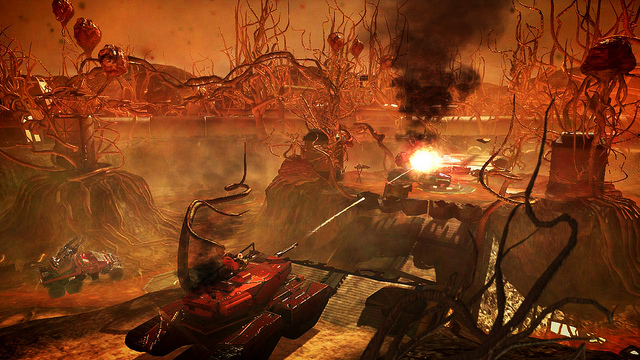 Other features include
– Complete online multiplayer with XP and rankings
– Local play for up to 4 players
– Multiple game modes, 16 single missions and 9 multiplayer grounds.
– Exclusive 3D play on PS3
Players also have the opportunity to unlock bonus content for Red Faction Armageddon released on the 31st May on PS3, Xbox360 and PC. Other bonuses include the ability to upgrade and gain bonus weapons.
Red Faction: Battlegrounds is brought to you by THQ and Volition and will be available for $9.99 from the Playstation Network or is apparently free as an incentive to PS+ members. It will also be available on Xbox platform.