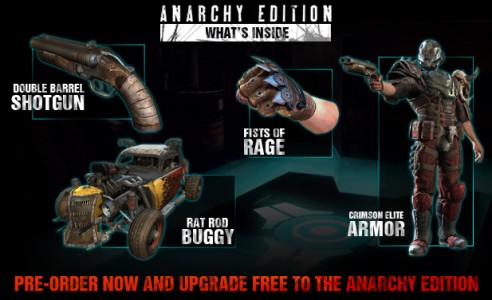 Retailer exclusive bonuses are the bane of some game buyers existence. Should I buy from this retailer and receive this different outfit or should I buy from that place and get a different car? Well Bethesda is looking to avoid any hassle for people looking to pre-order their upcoming FPS Rage. Rage pre-order bonuses will be the same regardless of what retailer you decide to give your money to.
GameStop, Amazon, Steam and Direct2Drive have been listed by the company to receive a handful of bonus content. The bonus upgrade to the Anarchy Edition from these companies will include four bonus items which you can see above. The Double Barrel Shotgun, the Crimson Elite Armor, the Fists of RAGE which are knuckles with knives on them and a Rat Road Buggy.
Alongside all the pre-order information Bethesda also released the Dead City trailer which shows off plenty of gameplay footage and you can catch it below!