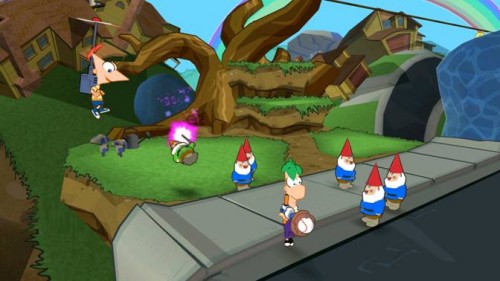 Who can say "no" to licensed video games?!  Especially when their published by Disney and feature the characters from one of the most watched shows on the Disney Channel.  I'm so excited!
Sarcasm aside, Disney does look like they may actually be putting a lot of effort into their new video game, Phineas and Ferb: Across the Second Dimension. Coming out on Nintendo Wii and DS, plus the Playstation 3, the game is set to release in the Winter of 2011.  Be prepared to play as one of 10 characters from the show, including Phineas, Ferb or Agent P.
"We collaborated closely with Disney's video game development team to ensure that the video game captures the humour and style of our movie ," said Dan Povenmire, Emmy Award-winning Creator/Executive Producer,Phineas and Ferb. "The antics of the characters and the immersive new worlds of the video game will extend the experience fans will encounter in the Phineas and Ferb: Across the Second Dimension."
While playing as one of those characters, your mission, if you choose to accept it, is to travel through mysterious lands, like a "1928 style cartoon world, a lawn gnome land and a gelatine world."  And when travelling through these lands, what better way to protect yourself than with a  "Carbonator – that fires carbonated orange soda to melt enemies – and ninja gloves, which allow players to stick to walls."
The Nintendo DS verison of the game will have slightly different gameplay, but you'll undoubtedly be to busy playing to notice.  The PS3 game will include PS Move support.  Think about using the Ninja Gloves with THAT!