You may have noticed that with the release of WAGNARIA!! NIS America had no upcoming releases under its anime branch. But that has changed because yesterday NIS America announced that they will be localizing Katanagatari Volume 1 and Arakawa Under the Bridge and will be releasing both on July 5th of this year. In a first for the company they will be releasing each series in a Blu-Ray and DVD combo pack and as you can see in the below and above images that each will feature a hard collector's box with an impressive hardcover art book. Arakawa will also receieve some bonus commentary tracks which feature interviews with the voice actors.
Katanagatari is an anime adaptation from the light novel series of the same name and was released monthly between January 25th and December 10th, 2010. There will be two volumes released for Katanagatari with the first volume containing six episodes that will run for 308 minutes roughly. The series itself follows Shichika Yasuri who is the head of the Kyoto-ryu school of martial arts. Both him and his sister are tasked with finding the final 12 swords that were forged by a legendary swordsmith.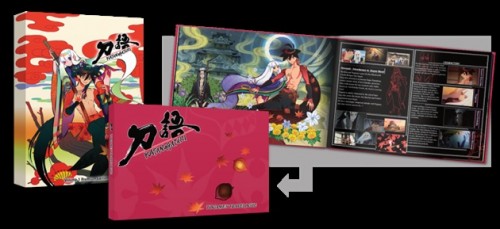 Now Arakawa under the Bridge was aired from April 4th 2009 until June 27th of 2009. The 13 episode series is based off of a gag comedy manga and recently has received a second season announcement in Japan. As the original series only had 13 episodes which means that this pack will contain all the episodes aired to this date. The story follows Ko Ichinomiya who is saved by a homeless girl named Nino by the bank of the Arakawa River. Both of these titles are great acquisitions by NIS America and should be a great addition to their growing list of titles.