While the plot of L.A. Noire is a fictional tale following LAPD detective Cole Phelps in post-WWII Los Angeles, the team over at Rockstar have pulled some inspiration for the game from real case files. The "A Marriage Made in Heaven" case for example is based on the real life story of Jay Dee Chitwood. In 1944, Jay Dee was found dead on the streets of Los Angeles. The conclusion of the investigation was that the man had been the unfortunate victim of a hit-and-run accident. Jay Dee's widow Helen then remarried and you might think this is where Jay Dee's tale comes to a close.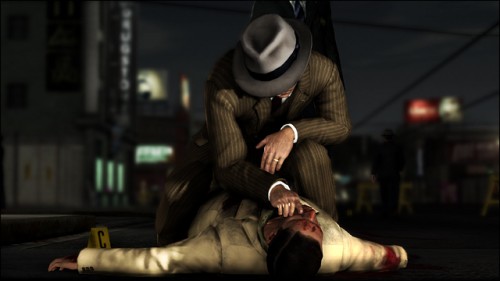 Two years later, however, a friend of Helen's inform the LAPD that the now remarried Mrs. Chitwood has stated her late husband wasn't in an accident at all. She claimed to have actually stabbed Jay Dee Chitwood to death before throwing him into oncoming traffic. Startled by this revelation, the police arrested Helen on suspicion of murder and reopened the case. As if this case weren't strange enough already, reading over the autopsy reports revealed absolutely no evidence of a stab wound on Jay Dee. It turns out he had indeed been struck by a passing automobile. Helen had made up the stabbing story during a drunken fight with her new husband in order to rile him up and the detectives were able to close the case once more.
Now, I can understand a wife wanting to get under her husband's skin, but pretending you murdered your previous spouse probably isn't the best course of action. In any case, Rockstar promises that in the "A Marriage Made in Heaven" case in L.A. Noire players will be treated to even more twists and turns, and that the story might not end the way it did back in 1944. Gamers who hope to fill the shoes of Cole Phelps come May will have quite a bit of intrigue to deal with in the cases of L.A. Noire.