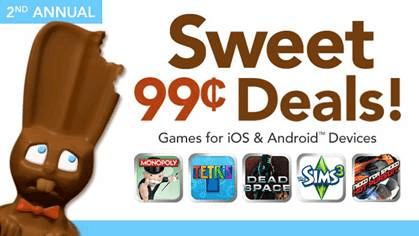 To celebrate Spring and Easter, EA Mobile has more than slashed the price of titles ranging from The Sims 3, Tetris and Tiger Woods 12 to Dead Space, Need for Speed Hot Pursuit and Monopoly.
The sale is good for games on your iPhone, iPad, and Android* devices so if you've run of out things to play on your iPhone or Android devices head on over to the iTunes or Android store and grab yourselve a Easter/Spring Bargain now.
This is one of EA Mobile's largest sales of the year – don't miss these limited time prices!
Click below on the title names to be taken to the iTunes Store (these are just a few make sure you do a search for EA or Electronic Arts in iTunes or in the Android store to see them all)
The Sims 3 – (99c US – $1.19 AU) 
The Sims 3 Ambition – (99c US – $1.19 AU)
Tetris – (99c US – $1.19 AU)
Tiger Woods 12 – (99c US – $1.19 AU)
Dead Space – (99c US – $1.19 AU)  – MUST BUY !!!!
Need for Speed Hot Pursuit – (99c US – $1.19 AU)
Monopoly – (99c US – $1.19 AU)
Fight Night Champion – (99c US – $1.19 AU)
Battlefield Bad Company –  (99c US – $1.19 AU)
Ultimate Mortal Kombat –   (99c US – $1.19 AU)
NBA JAM – (99c US – $1.19 AU)
The Game Of Life – (99c US – $1.19 AU)
Trivial Pursuit – (99c US – $1.19 AU)
Cluedo  – (99c US – $1.19 AU)