Ubisoft have revealed a Collector's Edition of their upcoming prequel, Might & Magic: Heroes VI, which can be pre-ordered exclusively from EB Games.
The Collector's Edition will include plenty of goodies, including a 164-page art book and a Haven Ring. There's also extra in-game content; players who pre-order will receive a 3 hour solo campaign, 4 in-game heroes, and 2 in-game items. All games come with a free one-month subscription to Might & Magic Heroes Kingdom.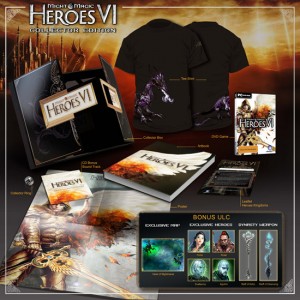 Ubisoft have also released their developer diary that reveals the Sanctuary faction, the last of the factions to be revealed in this new game.
Heroes VI is the prequel to 2006's Heroes V, and tells the story of the revival of an Archangel General who plots to recover his powers and take control of Ashan. Players can play within five different factions: Haven, Inferno, Necropolis, Stronghold and Sanctuary. The game is due to be released sometime in May 2011 and can be pre-ordered at the EB Games website here.
Check out the dev diary video below…who else thinks May is looking even better now?