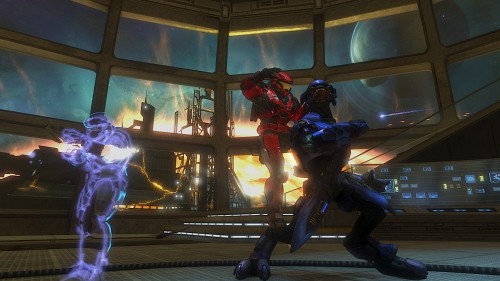 Has it been a while since you've stepped foot on the soil of Reach? Are you looking for something to spice up your online Halo playing? Well, you're in luck! The Defiant map pack has been released for Halo Reach on Xbox Live today for the reasonable price of 800 MS points, including the multiplayer maps Condemned and Highlands and the Firefight map Unearthed.
Condemned, shown in the screenshot above, is a mid-sized map located on the human controlled Orbital Station Gamma in orbit around Reach. Highlands is a massive map great for big team battle and objective based games like capture the flag. It is set in a "Military Wilderness Training Preserve" used by the Spartans, which may sound like a counter-intuitive measure by the conservationists of 2552, but the wooded environment should make for interesting combat scenarios.
Finally, Unearthed is the first downloadable Firefight map to be made available for Reach. It takes place in an abandoned Titanium mine that the humans were forced to retreat from after the Covenant invasion. For this reason it should be obvious why it is necessary to fight off the waves of Covenant attempting to snatch it from the UNSC forces, as it provides valuable resources for military vehicles and armaments.
The Defiant map pack was created in affiliation with Certain Affinity, who are known for their work on the Blastacular map pack for Halo 2, maps for both Call of Duty: World at War and Black Ops, and Halo: Waypoint. For those interested in checking out the new maps before jumping into the fray, the guys over at Rooster Teeth, creators of Red vs. Blue, have posted an awesome walkthrough video of Condemned, Highlands, and Unearthed so either check out the video below or head on over to their website.