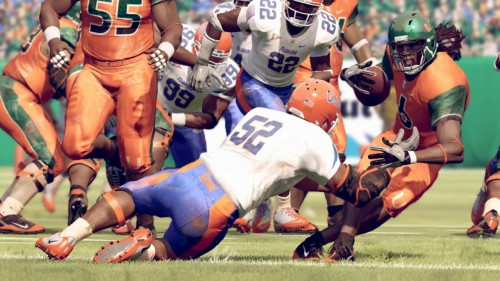 I have never been a huge football fan, but that doesn't mean I don't occasionally give the latest releases a whirl now and then just to see what has been enhanced every few years. The sad thing is not a lot has changed with the whole genre as a whole but that could be looking to change very soon. Today EA released the first bit of information and screens for this year's NCAA Football 12 which will "touchdown" early this summer and I must say this first bit of news is actually quite intriguing. On a new blog post over at the official EA Sports website, Art director Jean Adams shared some info on the new visual touches the game will receive this year.
NCAA Football 12 has been built using "High Dynamic Range Rendering", which as described from Adams is "a way of rendering bright and dark parts of the game while still maintaining a high level of detail". You know when you play a game and the shadow and shading consists of just a muddy dark color? This method looks break into that dark spot and groom it full of the same detail that is in the lighted areas, creating a much crisper and more realistic appearance. Dreadlocks on players as well as uniforms and even the crowd are getting some graphical reboots with this technology as well as shown in the screenshot above.
Adams also mentioned that the generic grass in the franchise is now a thing of the past as it is now completely 3-dimensional to create a more photo realistic appearance for each field.
Here is a screenshot of a before and after for NCAA Football 12, comparing it directly to last year's release: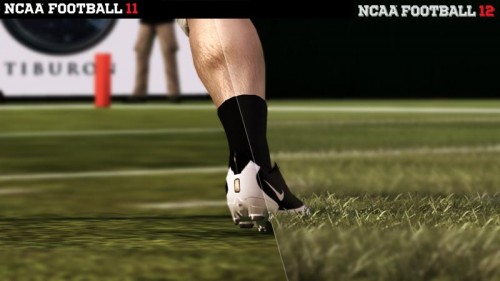 I must say I am impressed by how everything is looking, and I might just have to check this title out. I am sure the hardcore fans of the genre will get it anyway as they do every year, but the past 10 years of releases to someone who is not a huge follower of the series like myself just seems to kind of mash together, both visually and gameplay wise. If the graphics are getting this much attention with this next incarnation, it leaves us to wonder just what will be done to the actual gameplay as EA seem to be ready breathe a fresh burst of air on this aging series. I am sure more will come in the following weeks/months leading up to NCAA Football's release, so once more is announced we will be sure to bring the news to you. For now though, I highly recommend you check out Adams' blog out yourself for a bit more insight on these new enhancements.