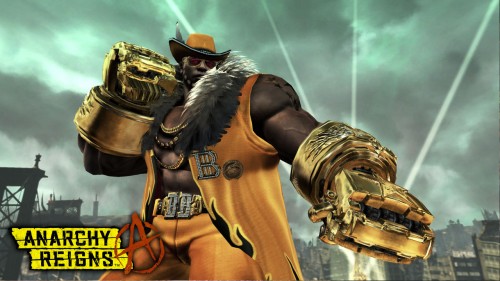 Today on SEGA America's blog they posted some news. This news pertains to a certain new brawler being published by the company by the title of ANARCHY REIGNS. This game is currently being looked forward to by many gamers for its throwbacks to classic Platinum games, such as Madworld and Bayonetta.
Developers Platinum games have already unveiled characters from the MadWorld franchise (Jack) as playable in this new brawler. Today they unveil a new character for ANARCHY REIGNS from the title MadWorld. You may recognise the name, or at least part of it, as it pertains to a very important character in the game. That name: The Blacker Baron. Yes, the Black Baron is back and is even blacker than before… hence the name.
To quote SEGA –
Today we're proud to introduce Blacker Baron, another character from SEGA and PlantinumGames' upcoming brawler, ANARCHY REIGNS. Did we say introduce? We certainly mean re-introduce, as those who played Madworld (that's everyone right? …right?) will certainly see a familiar face.
For more information check out SEGAs BLOG.