With WWE All Stars hitting shelves March 29th, I thought what better time than to give you a full breakdown on what to expect from this brand new IP from THQ. WWE All Stars has the old school stylistic combat that everyone loves and it features stars that wrestling fans love from both the past and present. For wrestling fans, a part of the roster will be revealed here but already displays some of your favorite legends like Andre the giant, Hulk Hogan and The Rock. The superstars list also already features huge current stars like the Big Show, John Cena and Rey Mysterio so if you can't tell, things are jam-packed in that notion.
Now for those of you who aren't wrestling fans but are still reading, this game could catch your eye because it isn't a super realistic wrestling simulator (the size of these guys muscles shows that they are cartoonishly big, even for a pro wrestler). The reason I say this is that this game boasts "over the top" and "high flying action" which combined with brightly coloured motion paths and easy accessible controls, it is looking like we will be getting an experience that hardcore fighting game fans would enjoy as much as casual gamers in for a little bit of easy fun.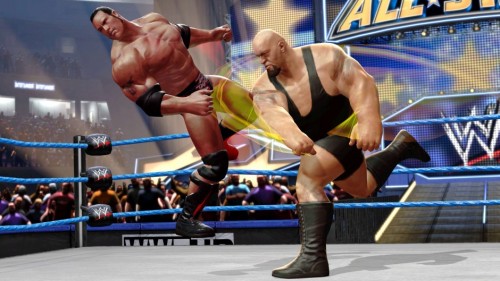 This game is on Xbox 360, PS3, PSP, PS2 and Wii and has awesome Mad Catz accessories such as a brawl pad and an arcade stick with buttons that further reinforce the fact that this game is more a predecessor to the arcade WWE/WWF games such as WWF WrestleMania: The Arcade Game rather than the Smackdown vs. Raw series.
Even with all of this being invested, this title may not sell well and may turn out to be another Legends of Wrestlemania, but considering what they are working from the previous Smackdown vs. Raw, which has already had great customization and match options.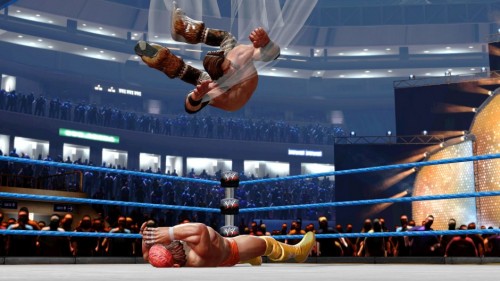 The main thing appealing to WWE fans is the roster as I mentioned before, but there are two bonus characters available: Ted Dibiase and Ted Dibiase Jr. ( available at GameStop for those who want to reserve it here. These two are great examples of how two generations are really coming together and you will finally let fans see their dream father vs son match-up that could not happen otherwise.
The thing we also need to remember amidst all the other news is what could be the best bit about the roster which portrays each superstar with their own style and moves. Sadly, it is a bit of give and take as exclusions have been made such as the loss of Divas, but every star in the game gives a different experience by some measure and will really add to the gameplay with epic unique animations. With The Rock recently returning to the WWE, this also means that the inevitable Cena vs Rock match will be ready for an over-the-top recreation upon launch.
WWE All Stars could be the next big thing for wrestling titles, as the potential is there and even if it does not make it to that extremely high mark, it should still be a fun game that has its selling points for fans of fighters everywhere.