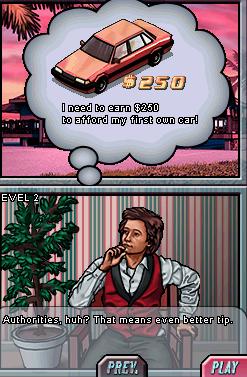 Ever wanted a game where you could immerse yourself into the world of …valet parking? With such an odd concept of a 1989 set valet parking title, I think the subject alone is definitely original. That however is the name of the game in Valet Parking 1989 which will soon be headed to the DSiWare thanks to developers, Zordix AB. Zordix AB have released a lot of information about this title though, and I am starting to think that this oddball title may be a winner. Valet Parking 1989 throws gamers back in the time of bright colors, big hair, and a neon lit California. The concept of the game is quickly park cars for impatient clients. In a way, you can think of it as a Diner Dash, but with…valet parking (of course) instead.
Here is a full list of features for the title:
Park and return cars to patience impaired guests.
One evil bossman! intense and manic gameplay.
Set in a neon lit California 1989.
12 story mode levels all with their own challenges.
Shoulder pads galore.
30 characters that you may or may not (n)ever have heard of.
Mullets, mullets everywhere! 15 songs (quite but not like, anything you heard before)
Two words, handcuffs and ice cream.
15 cars, big and small with their own quirks. Never ending play, with or without a teen movie story.
A nice ambulance, you will need it!
A trailer was also released for the title, which you can check out below. The clip doesn't show off too much really, but if the music and setting are any indication, this title really looks to be an awesome addition to the DSiWare and a bit addictive to boot. Valet Parking 1989 reminds me of some of the offbeat titles the DS has seen in it's lifespan that are packed full of clever and humorous dialogue all the way through, which is why the is a must buy for myself. No date has been given yet but I would expect to see this game parking its way to DSis sometime later this year.