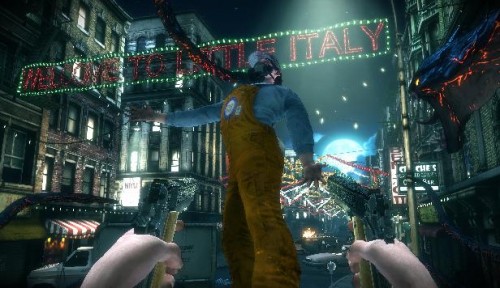 2K Games announced today that 2007's The Darkness is getting a sequel this year. The million unit-selling original fared well with both the public and critics, but after all this time and no news on a sequel, the announcement of The Darkness II comes as a huge surprise. The Darkeness II is scheduled to arrive on Xbox 360, PS3 and PC this fall, so it appears developer Digital Extremes was busy beavering away in secret with a release date so soon despite having only just been announced.
The Darkness II will take players down the brutal path of Jackie Estacado, wielder of The Darkness, as he makes use of his Demon Arms to carry out his ruthless motives. True to its comic book origins, the game will feature a hand-painted noir visual style and with award-winning comic book writer Paul Jenkins on board, it should also have a strong narrative behind the graphics.
While 2K Games aren't giving much away at this stage, they have released an initial screenshot of the game. For anyone who played the original, the announcement of The Darkness II should have you very excited indeed.