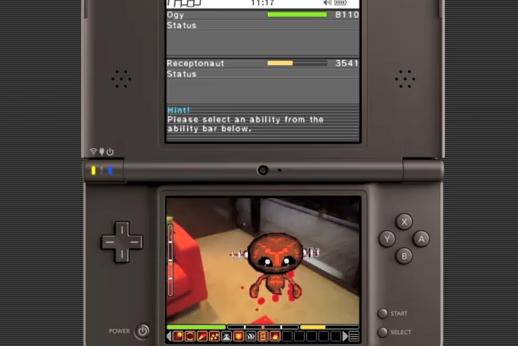 The Australian development team, Nnooo, have been busy working on their new title for the DSiWare, Spirit Hunters in which the player will battle and capture spirits that inhabit our world. This title is very interesting as you use the DSi's camera to put the location you are in at the time as the backdrop for the happenings in the game itself.
"The development of the game is really taking shape and we are delighted to be able to show the battle mode which will represent a large part of the player's in-game experience", said Nic Watt, Creative Director at Nnooo. "Now that we have some of the sound effects and player abilities in place, we are able to give a much better feel for what it's like battling against the spirits."

The plot puts the player in the role of being a member international task-force called Spirit Hunters Inc. where you must battle and capture spirits, sending them back to the spirit world. Throwing in some RPG elements, each spirit captured leads to experience points and in-game currency in which you can gain/buy new abilities and level-up.

"We are very excited about how the game is developing", said Watt. "Augmented Reality is a really exciting new area for games and we think that Spirit Hunters Inc is really making use of all of the Nintendo DSi's features. We are also planning a version for the Nintendo 3DS™. More details about this will be revealed in the future."
Of course the most interesting thing to come from Nnooo so far on this tile is the developer diary. Instead of just talking about the game's production with videos of gameplay, creative director Nic Watt shows the game play on an actual DSi and shows off the battle system as well as a few other areas of gameplay. I am most impressed about the graphics though at the moment, as when I first heard of this title I imagined a bit of image tearing with the backgrounds, a problem that has plagued many camera-based titles on the system. It is very obvious from the video that this is not a problem and the game seems to play very smooth.
We still don't have a release date at the moment other than a release window of sometime later this year, but you can check out the developers diary below in full for yourself and if any news comes forward for Spirit Hunters, we will be sure to update all of you.