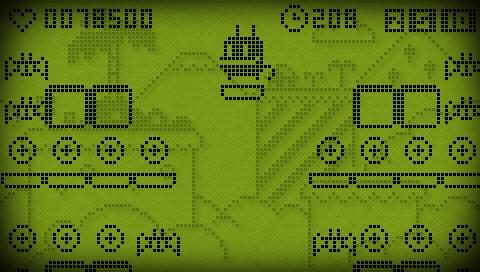 Running, jumping and shooting to release, Pix'n Love Rush is nearly ready to be downloaded on the Playstation Store.  Originally released on the iPhone, the game is finally finding its rightful place on the Minis side of the PSP and PS3 .
One of the most appealing parts of the game is that if you can spare 5 minutes, then you will have time to play the game's main mode.  Packed with 10 different vintage environments, this game will test your reflexes and tenacity.
The PlayStation Mini version of Pix'n Love Rush also features the Cursed mode.  In this mode,  all you have to do is to press one button to jump platform to platform and get as far as possible.  The 5 levels of Cursed mode include:  Hard, Harder, Hardcore, Hardcorer and Hardcorest.  Hardcore!
On-Off Rush mode is also included in the Playstation edition of the game. This mode tasks you  to go through each level forward and backward. Going forward, the game will be set in daytime and you have to catch the suns and avoid the moons. On the way back, it will night time.  Hence, the experience goes to the opposite end of the spectrum; you must catch the moons and avoid the suns.
Pix'n Love Rush will be coming on March 2nd for PlayStation Plus subscribers, for free for a limited time.  And on March 16th, everybody will get a chance to play this game for €1.99 / £1.74.  Check out our review, coming soon!