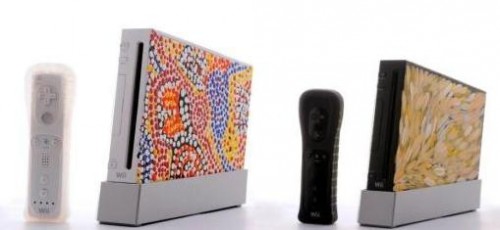 It is always nice to see the big companies giving back, especially when the company in question is Nintendo. Nintendo of Australia have commissioned four of the country's top artists to paint inspired artworks on eight Wii consoles to benefit the indigenous education program and charity Shalom Gamarada. The Shalom Gamarada Scholarship Plan will receive all funds raised by the consoles, using the charity to further encourage indigenous students to complete their university education with some financial support to those in need. The program has already helped make a significant impact in lowering the drop-out rate within the indigenous community, so this would definitely qualify as a good cause.
The consoles themselves will come in custom built acrylic display cases and will all be non-playable to ensure art preservation. If you happen to win on a bid though and still want to play on the system, Nintendo has bidders covered as winners will also receive a separate functioning system.
"Having these important artists create these pieces for Wii will not only raise much needed funds for indigenous education, it will also open new doors by raising awareness to people who would not normally be familiar with the work we do at Shalom Gamarada," commented Jenny Hillman, Curator of Shalom Gamarada Ngiyana Yana.
"Some of the artists involved can boast selling individual pieces upwards of $20,000 and what they have created for Wii are exceptional, one-off originals that I am sure will draw national attention for the eBay auction," added Hillman.
Highly acclaimed artists involved in this exciting project include Gloria Petyarre, Barbara Weir, Emily Pwerle and sister Gayla Pwerle.
I think the idea of turning video game systems into art pieces for charity is fantastic and for Nintendo to be behind such a project is even better. Now I know many of us out there cannot afford to throw down $20,000 for a console, but if you have the funds and want a conversation piece of a lifetime as well as helping students in need, by all means throw down a bid. If you are interested in bidding or just curious to see the items being auctioned off and what the eventual pricetag ends up at, check out http://stores.ebay.com.au/inDemand-Causes/wii between the listing date of Feb. 25th and the end date of March 6th.