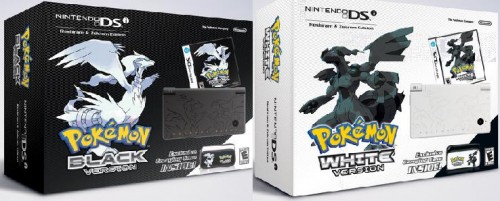 We are just a bit under two weeks away from the much anticipated release of Pokémon Black & White, and Nintendo have now revealed that along with the release of both titles, two DSi bundles will also be offered featuring etched in art of the two mascots in the games. The Reshiram and Zekrom Edition DSi bundles will be both black and white to fit the release of the new titles and include not only a copy of Black or White (depending on which version you get), but also a nice title specific carrying case. If you remember, this kind of offering is nothing new for Nintendo, as just about every new generation sees a themed console come out with a new set of titles, so it is nice to see the tradition to continue with these awesome bundles.
Nintendo has also shed light on the Xtransceiver device, which will let players utilize the DSi Features to perform a video chat with players they have swapped friend codes with. This is a first of course for the console in general, and up to four players can use the Xtransceiver over local wireless, or two players on a Nintendo Wi-Fi connection. I really didn't think this feature would stay in, but I am happy it did as it opens a whole new door for future online gaming with portables.
If you are still holding on to a DS original model or a DS Lite, these new bundles will be a great upgrade to host all of the new features Pokémon Black & White have to offer, not to mention that with the extra case and game included, will make an upgrade just a bit easier on your wallet at $179.99.
Leave a comment below and let us know what you think of the bundles pictured above as well as what version you plan on getting and if any new Pokémon Black or White news is announced, we will be sure to let you know.