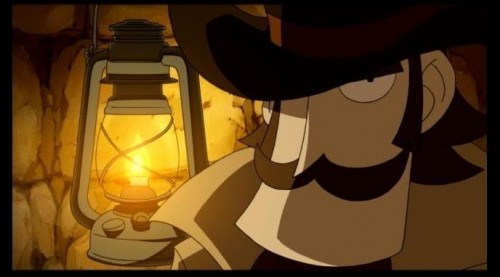 Who says Professor Layton has to be the only puzzle solving sleuth on the 3DS? Today, Konami announced a new title for the 3DS by the name of "Doctor Lautrec and the Forgotten Knights" which will put players in the role of Jean-Pierre Lautrec in a 19th Century setting. Launtrec is more of a historian than a detective though, as the point of the game is to guide Launtrec and his bubbly assistant, Sophie as they gather clues by completing puzzles and riddles to track down "living treasures" in a world filled with characters with rich personalities.
While the plot is intriguing, the way the game is played is what caught my attention. Doctor Lautrec and the Forgotten Knights will completely utilize the 3D features on the console to solve and decipher the many logic and environmentally-based puzzles and riddles within the game so a sharp eye will needed in order to progress. There are also many rival professors and other perils that Sophie and the Doctor must overcome as they move forward along their quest.
Konami may have a future franchise on their hands here if everything is at good as it looks so far, and with the game relying on the 3D, this will certainly be a title to keep an eye on during the flood of 3DS titles that are coming out this year. You can check out the screenshots below to get a first look at some of the settings and characters as well. These screens don't reveal too much, but I can say I am really digging the animation style right off. Keep checking back as well, as we will be sure to bring you even more on Doctor Lautrec and the Forgotten Knights as new information comes forward.