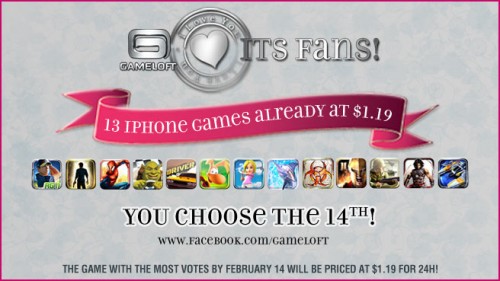 Sick of chocolates? Roses not cutting it anymore? Well, Gameloft has the perfect gift for you this Valentine's Day.
Gameloft is celebrating Valentine's Day by releasing fourteen of their iPhone/iPod Touch/iPad games for only $1.19 (AU) – 99c (US). Thirteen are currently available, with the fourteenth to be voted upon by the public. By which I mean, you.
Get to Gameloft's Facebook page (http://on.fb.me/edPqBs), and vote for the game you'd like to see on sale. The title with the most votes will be available to download for $1.19 for the 24 hours over Valentine's Day.
Android users have also been promised a similar offer, beginning on Friday. Check Gameloft's Facebook page later this week for details.
So download them, and consider them a Valentine's gift from Gameloft. Or gift them to that special someone. But please, make sure your significant other will appreciate the romantic gift of Zombie Infection, before you send it.
Below are the thirteen titles currently on sale, as well as where to get them.
Spider-Man: Total Mayhem: http://bit.ly/ctqCzG
Shrek Kart™: http://bit.ly/aMBlu5
Driver™: http://bit.ly/cAfGGA
Fishing Kings: http://bit.ly/dgSjeH
Let's Golf!® 2: http://bit.ly/hsO0Cj
Shadow Guardian: http://bit.ly/hysPsN   (also available on iPad HD: http://bit.ly/ifqT37)
Rayman 2: The Great Escape: http://bit.ly/aHB62Q
Real Golf 2011: http://bit.ly/dVBhdW
Hero of Sparta II: http://bit.ly/hKdw08
Star Battalion: http://bit.ly/cv6kBN   (also available on iPad HD: http://bit.ly/b8MFcL)
Prince of Persia: Warrior Within: http://bit.ly/aSP5ej
Brothers In Arms® 2: Global Front: http://bit.ly/bo9dXW
Zombie Infection: http://bit.ly/af77ub