The amazing L.A. Noire is coming soon.  In the intervening time leading up to release, Rockstar has provided some very interesting data regarding how Team Bondi, the developers behind the game, were able to accurately recreate the 1947 era themes that the the game will feature.  Part One of these "diaries" deals with Locations and Set Design.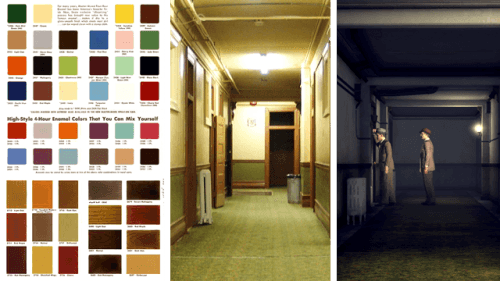 The artists and graphics designers at Team Bondi actually used real color palettes from the '40s to match and create their own colors in the game. Other materials were also used.
"I bought from eBay old House & Garden magazines, along with Architectural Digest, Sears catalogues and Interior Decorating guides from the 40's. These were invaluable as not only did it show you the best of how they styled their homes, but it showed you how they lived," says Simon Wood.
The Barclay Hotel in Los Angeles was used to recreate the feel of the 1940s.  This hotel has not changed much in the last 60 years, and so it was a perfect source of detailed design schemes that could be implemented in the game.
"We created 'Production Bibles' which are like production design style guides for all the locations in the game," said Wood, "The bibles have floorplans, material, dressing, graphics and signage, lighting details, and any other reference images that are needed to create the locations in the game.  We made over 140 of them altogether."
As usual, Rockstar made sure that their game would express exacting details that would really bring each character to life.
"I had a checklist of which styles of architecture and colour palettes would work well with the characters Brendan was writing, so that their persona was reflected in their personal surroundings," Wood said.
Team Bondi has strived to make this game have very high production values.  As a result of this effort, they researched these wardrobes and sets as one of their first steps in the design process.   Often times, in the movie industry, these aspects of creation are left to do until the end.
Look out for Parts 2 & 3, coming soon!