A few years ago a game titled "Your in the Movies" made it's debut on the Xbox 360 using the Xbox Vision camera to let players make their own debuts in films. The only problem was that the vision camera was a bit clunky on the execution which quickly led the title to the bargain bin and since the whole concept has been much of an after thought in the gaming world. That is until now.
A new game is just about ready to release though and it comes from Yoostar. If you have never heard of Yoostar, it is a title that originally launched in 2009 for the PC & Mac allowing users to throw themselves in popular movie scenes or television roles and recreate the movie magic themselves. Yoostar will now be seeing a sequel though which will launch on the Xbox 360 and PS3, and in my opinion this is perfect timing as the camera technology may finally be ready for what could be a great idea for every movie buff out there.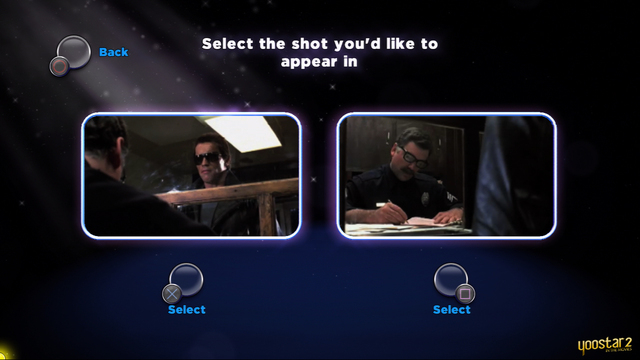 Yoostar 2 will let players either replace or act along side their favorite actors in a broad selection of movies and is going to fully utilize the Kinect and Playstation Eye for even better results. Namco has even agreed to publish the product which makes me think this title must have some potential for such a major publisher to join in on this project. In the screenshots released, you can even see that licensed movies are actually used, so that is a major plus. Here is some of the official statement from Namco on the upcoming release of Yoostar 2:
"This is the most innovative use of camera technology we've seen to date," said Alberto González Lorca, VP Third Parties, NAMCO BANDAI Partners. "The moment you see yourself on screen in Yoostar2 is the moment you fall in love with it. We're convinced this will be the next social gaming sensation and we're delighted to have secured the rights to distribute the game throughout Europe."
"We have no doubt that this fantastic product will capture the imaginations of everyone who sees it," said Olivier Comte, VP Marketing, Sales & Publishing at NAMCO BANDAI Partners. "Yoostar2 is a brilliantly simple idea, but one that demanded specific advances in gaming technology. Now that technology has arrived and we can't wait to get the game into people's hands."
"To say there has been considerable interest in the distribution rights to Yoostar2 would be an understatement," added Gregory Fischbach, CEO, Yoostar Entertainment Group. "Almost every major player has been keen to sign the game, but in the end, we felt Namco Bandai's European muscle won out, and we're thrilled to be working with them on what will be unquestionably one of the biggest releases of the year."
Yoostar 2 should be launching within the next couple of months everywhere and I feel this could be a great party game as the feature of following the script for actual movies (or simply ad-libbing to the scene) sounds like a blast. Whether or not this is one of the years "biggest hits" is still yet to be seen but you can bet this will be one title this year to keep an eye on. More information is to be announced on this one, and be sure to check back as when it comes forth, we will be sure to show even more of this exciting new title.