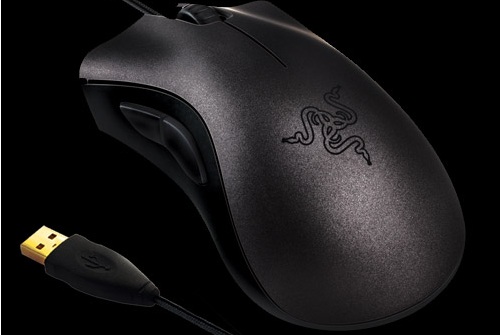 Anyone who takes PC gaming seriously has probably heard about the DeathAdder mouse. Razer's most popular and perhaps one of its most widely known gaming mice is turning 5 years old today and Razer isn't going to let that milestone pass uncelebrated. They have released a brand new DeathAdder mouse, called the Black Edition, and have put even more love into the already top of the line mouse.
Razer has simplified the design of the mouse by providing a simpler form factor design and also by placing non-slip rubber sides that give users better grip and comfort for those intense gaming sessions. Featuring an entirely black Razer Logo this mouse will be a must have for PC gamers. Catch the features below.
Ergonomic right-handed design
3500dpi Razer Precision 3.5G infrared sensor
1000Hz Ultrapolling / 1ms response
5 independently programmable Hyperesponse buttons
On-the-Fly Sensitivity adjustments
60 – 120 inches per second and 15g of acceleration
Zero-acoustic Razer gaming grade Ultraslick mouse feet
Gold-plated USB connector
7-ft lightweight, braided fiber cable
Side Grip with Non-Slip Rubber Coating
Approx. size in mm: 128(L) x 70(w) x 42.5(H)
The DeathAdder Black Edition is currently available now for purchase on the RazerZone website for $59.99 US, $79.95 AU and €59.99 Europe. The worldwide release to retailers is expected for some point next month.