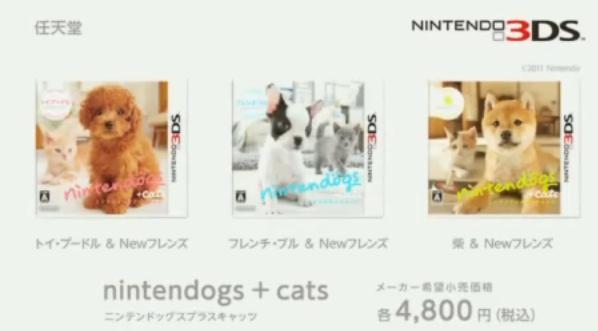 America may still be in the dark for a release date and launch info for the 3DS, but over in Japan, Nintendo have announced all of the launch titles players can expect when the portable launches over there on February 26th. At Nintendo World eight launch titles were shown (10 if you count the other versions of the Nintendogs titles) and I am digging most of them.
Here is the full list of launch titles which will hit Japan when the 3DS releases:
Winning Eleven 3D Soccer
Super Street Fighter IV 3D
Samurai Warriors Chronicle
Tobidasu! Puzzle Bobble
Nintendogs + Cats
RidgeRacer
Battle of Giants: Dinosaur Strike
Professor Layton and the Mask of Miracle
While this now throws into question the eventual release dates of titles such as Kid Icarus, Paper Mario and many other titles that were shown at the 2010 E3, it is good to at least see titles like Street Fighter IV 3D and Layton already making their appearance on the system  a bit earlier than expected. Without a doubt not all of these will be present in the U.S. or U.K. when the 3DS launches so now I guess the main question for us is what will be our launch titles. If I had to guess, I would say Nintendogs would be a front runner at launch here as well as maybe Street Fighter but until Nintendo announces anything, the rest of the world will have to go on pure speculation. Keep checking back though as when the U.S./AU/EU line-up gets released, we will be sure to cover it. Until then you can check out a video of the Japanese announcement below.