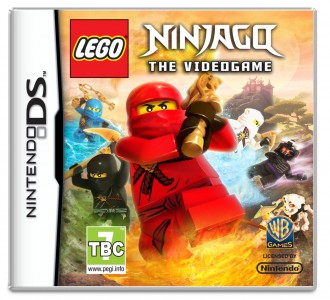 Warner Bros. Interactive Entertainment are teaming up with TT Games to release another family friendly LEGO adventure called LEGO Ninjago: The Videogame for Nintendo DS. Lego: Ninjago: The Videogame follows on from the successful LEGO Battles game, releasing sometime this Spring to complement the steady stream of Lego Ninjago products in shops from today and continuing throughout 2011.
In LEGO Ninjago: The Videogame, players adopt the art discipline of Spinjitzu, where your characters spin and become tornadoes to defeat their foes, all in the name of restoring harmony to the world. The game also features a wide variety of game modes to choose from. Single-player has both "good" and "evil" campaigns, then there's Battle Mode challenges, and the option to particpate in multiplayer showdowns with friends and family.~
In true LEGO fashion, players can build and customize their own army of Spinjitzu heroes or Skulkin villains as they see fit, then can deploy these armies on missions. Missions offer varying structures from hoarding Ninja weapons to clashing with dragons in sizeable battles.
Tom Stone, Managing Director of TT Games Publishing said "LEGO Ninjago: The Videogame offers players a humorous way to immerse themselves further in the LEGO Ninjago toy line with action packed battles"; adding "It is great to build upon the success of the first LEGO Battles game and expand the LEGO Ninjago world with new and classic LEGO characters."
Primarily a kids game, LEGO Ninjago: The Videogame looks set to be good fun for all the family. Expect the traditional LEGO brand of humour cropping up, as well as cameo appearances and nods to other titles.