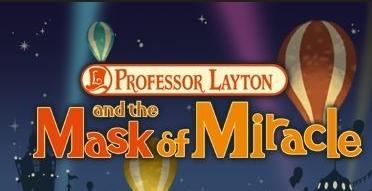 After just releasing the news that Professor Layton & the Mask of Miracle will be one of the titles launching with the 3DS in Japan, we now have a new gameplay video that shows around 30 seconds of the new Layton title and there is a lot in the clip that shows that this Layton title will be quite different from previous games in the series.
The first thing you will notice while watching the video is that the environments are all rendered in full 3D, which of course is fitting since the title is on the 3DS. All the artwork still has the 2D shine we all love as well so it is great to see how well this is looking to blend together. A cursor is also shown which is interesting to see as in the past games, the bottom screen was used to search environments with the stylus and it appears that the new analog pad will replace that method, keeping even clue-hunting in 3D.
Of course we will also see a new story and with flashbacks in the mix as well, if you couldn't already tell by Layton's huge mane in the end of the clip. Check out the video below for yourself and get ready as it looks like this month will be full of even more game reveals for the 3DS as we get closer to the official launch.