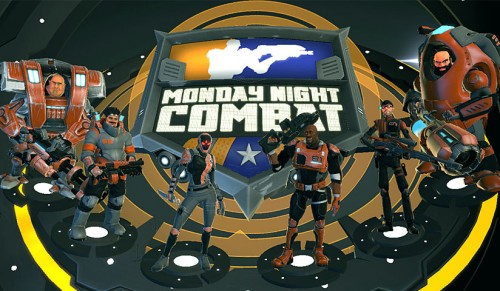 The summer hit from XBLA is now available for the PCs too, Monday Night Combat was released today on Steam.
Monday Night Combat is a class-based, third-person shooter, but it's best described as "Team Fortress 2 meets DoTA", since the game has a huge tower defense style inside his own formula.
Check out some of the game's features:
Co-op
Blitz mode allow players to defend their Money Ball against armies of robots by themselves or four player co-op over Steam. During various Blitz challenges, players can spend money earned by destroying bots to build defensive turrets around the Moneyball, upgrade one of six unique character classes, or set off robot crushing environment hazards. The Challenges vary from a ten round Exhibition Blitz to endless robot waves of ever increasing difficulty in Super Sudden Death Blitz. Money earned from each Challenge goes into a persistent Lifetime Earnings that allows players to unlock over 370 ProTags, create custom classes, and get ranked on Leaderboards.
Competitive Multiplayer
Crossfire mode pits teams of players against each other over Steam. Each team is supported by an endless stream of robots fighting on their behalf; overwhelming your opponent's stream, upgrading your Pros, and base defenses will be the key to your success!
Customizable Characters
Each Pro caters to their unique style of play and comes with their own set of upgradeable skills. Customize those skills and abilities even further with a variety of unlockable products in the Custom Class feature.
Persistent Stats
Every game of Monday Night Combat earns the player money that goes towards their Lifetime Earnings. Lifetime Earnings can be spent on unlocking custom classes and buying earned ProTags. How much Lifetime Earnings you have also determines what level you are. Monday Night Combat keeps a large set of persistent statistics for all aspects of gameplay. MNC features over 370 'ProTags' which are customizable tags you can show off to other players and friends.
Dedicated Servers
Host multiple instances of MNC dedicated servers. Full stand alone client coming soon.
Editor support (Coming Soon)
As you can see, the PC version of Monday Night Combat comes with all-new exclusive contents, you can expect dedicated servers, new arenas, game modes, a editor (coming soon), customization, and much more in the following updates, the game is constantly changing with new contents on the PC, and is fully integrated into Steam.
Monday Night Combat on Steam (The game is available for $14.99, but there's an 4-pack offer too (buy 4, pay 3), where you can get it for about $11)
If you purchase Monday Night Combat before February 1st you'll receive exclusive Team Fortress 2 Items for Monday Night Combat & Monday Night Combat Items for Team Fortress 2. You can see this, and much more, in the Launch Trailer right below: