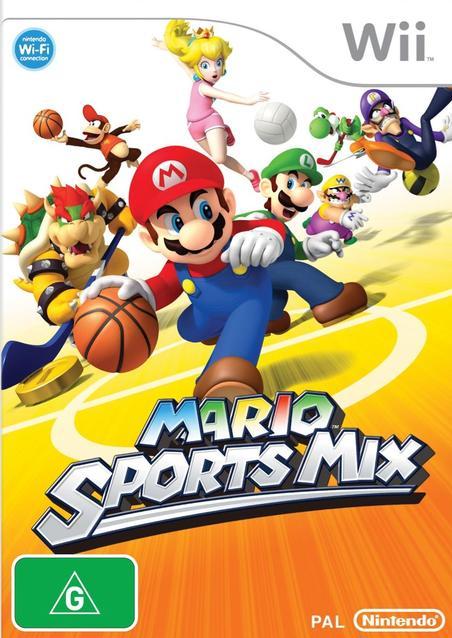 In barely under a month, Mario fans everywhere will be able to get their hands on the Italian plumber's newest title, Mario Sports Mix. With the release date now fast approaching, Nintendo have released an official cover art and given a few more details for the title which will be coming to the U.S. on February 7th, to the U.K. on February 4th and to Australia on January 27th. As you can see above, the cover has now also been shown and while it may not win any awards on creativity, it does show a good portion of the game's cast tearing it up it the four different sports within the game, hockey, basketball, volleyball and dodgeball, so I would say it gets the job done just fine.
Nintendo also released some more information about some of the features and arenas which will be included in Sports Mix as well:
Mario Sports Mix presents these four familiar sports – but with a Mario twist. Players can choose from a variety of playable Mushroom Kingdom characters and can even challenge Mario and friends directly by playing as their own Mii characters. Each game contains a number of Mushroom Kingdom power-ups that can turn the tide of a game in an instant, such as banana peels, green shells and even mini mushrooms. In over-the-top Mario sports fashion, each character can unleash his or her unique special move that ranges from Mario's fire dunk in basketball, to Yoshi's rainbow attack in dodgeball.
Players can also hold their matches in a number of interesting venues. For example, the Wario Factory has conveyor belts that affect how the players move on the court, while in Peach's Castle, fountains go up and down to block certain areas of the net in Volleyball.
Up to four friends who are in the same room can join in the fun, while up to four players can compete online via Nintendo Wi-Fi Connection. Players can play online against friends with whom they have traded friend codes, or anonymously against other opponents.
This newly announced online function should be a great addition that for myself will add in many more hours of replay, as long as the servers perform well anyway. I am also glad to see the interactive courts coming into play with this one as I can imagine these will have some hilarity (nothing is like shoving Luigi into something explosive in a Mario Sports title). All together, this game is shaping up quite well, and even though I am not a huge fan of the Miis being in the game, the roster as well as environments are jam packed and this very well could be Mario's best sports outing to date. Be sure to check back as I am sure Nintendo will be releasing even more information and we will bring it to you as soon as we see it.