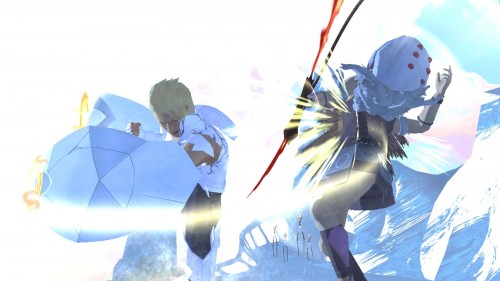 After publishing Arc Rise Fantasia last year, UTV Ignition are at it again with yet another game which looks to stun players with visuals as well as create a whole new way to play an action-adventure game with El Shaddai: Ascension of the Metatron. If you have never heard of El Shaddai before, now is the time to take notice as this could be one of the most ground-breaking releases of this year.
El Shaddai is an alternate telling of the biblical mythology as narrated in the 'heretical' Book of Enoch, part of the Dead Sea Scrolls. The gameplay is actually more if a unique action-adventure which has a very stunning design making for a whole new original experience. It should also be noted the huge team that are working on this title with Japanese developers whose former credits include the huge franchises such as Devil May Cry, Resident Evil, and Okami.
Here is a bit more info from UTV Ignition on El Shaddai:
El Shaddai: ASCENSION OF THE METATRON features a disruptive next-generation combat system and stunning original direction from director Sawaki Takeyasu, previously the art director on Okami – considered by some media as 'the most beautiful action game ever created.'
"With an immensely talented development team combined with the game's highly inspired action game play and strikingly unique art style, I am proud to deliver this game to gamers all over the world. I hope you will enjoy the wonderful game experience of El Shaddai," said Game Director Sawaki Takeyasu.
"El Shaddai: ASCENSION OF THE METATRON has been muted by the media as one of the most anticipated titles of 2011 and UTV Ignition is looking forward to its success," UTV Ignition Entertainment Chairman Hassan Sadiq.
Judging by the screenshots and the pure excitement and passion of Takeyasu, it looks like El Shaddai has a lot of potential to be a break out title, or franchise even of 2011. We still don't have an official date on El Shaddai: Ascension of the Metatron as of yet except for Spring, but it will be hitting both the Xbox 360 and PS3 in just a few months so rest assured as new information comes forward, we will be sure to bring them to you.
For now though, you can check out the official website here, which features some music and visuals that should hold you over until then. You can also check out five new screenshots below.