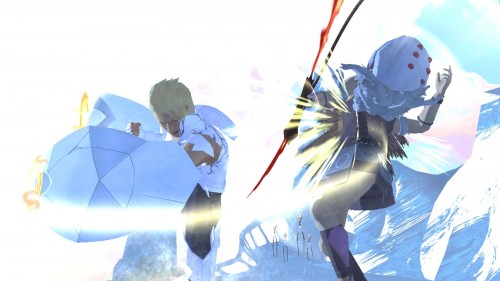 A while back, we brought you some news about the very unique and impressive El Shaddai: Ascension of the Metatron, which has been in development over the past few years by a team which have brought us titles such as Okami & Devil May Cry. Publisher for the title, UTV Ignition have now announced that the game is now complete. Based on western mythology and heavy in a unique, artistic flare, El Shaddai has certainly got a lot going for it and this title could very well be the next big franchise based on what we have seen. Speaking of that, the game director has also released a statement on completion of this title as well.

"The creation of El Shaddai has truly been a long and exciting journey, and yet there is still much to be done to prepare for the game's launch. So far, the public's response to the game has been very encouraging, and I hope that the final product will greatly exceed their expectations. I also look forward to having time to consider the future direction of the El Shaddai franchise," said Game Director Sawaki Takeyasu.
The word franchise being used this early really shows on how confident the developers are in El Shaddai which is certainly a good sign. UTV Ignition also plan to start a marketing campaign for the upcoming title soon as well so that will be interesting to see as we grow closer to the now marked April 28th release date for Japan. Still no word on an exact date for the States or Europe, but that should all come forth in time. For more info on El Shaddai, check out the official website here and check back soon as I have a feeling the marketing wave is right around the corner.