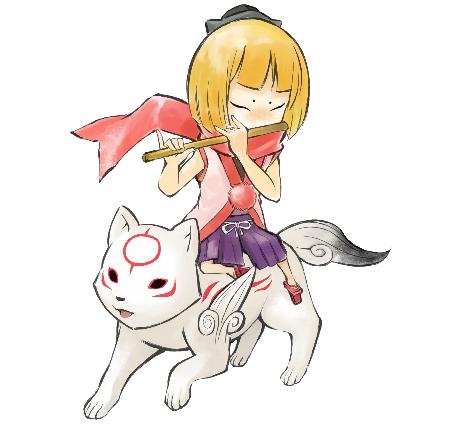 We are just a couple of months away from Capcom's Okamiden, and as we near the release date, Capcom have released some brand new screenshots from the game as well as a new trailer. In the screens (which you can check out below), eager fans can get a first glimpse of a music based mini-game that looks to fit in perfect with the title's unique art style and characters. As you can see in the pics, it looks that the stylus based calligraphy brush will come into good use for this Okamiden as much as it was used in Okami which is great to see.
I would say the story to really talk about here though is the new trailer. In the clip, we see the first meeting of Chibiterasu and the game's main (human) character, Kurow. After a brief stare-down and bit of dialogue, Kurow quickly jumps onto the pup's back as they run off together, which I am guessing is where the story takes off.Kurow seems like a tough and interesting character and I am looking forward to seeing how the story plays out between the two.
Okamiden is building up to be one of 2011's best looking portable releases this year and on March 15th, Chibiterasu and Kurow will both be in tow as the game hits shelves overseas. Check out the trailer for yourself below and you can also visit the Japanese site for even more artwork and gameplay footage by clicking here.