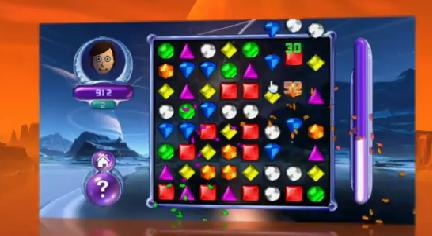 Popcap have had a busy year. After the recent release of Bejeweled 3 and the several versions of the highly successful Plants vs Zombies, the company is finally bringing one of their most popular titles to the Wiiware. The title of course I am referring to is none other than Bejeweled 2. Of course this version will have some Wii flare in the mix as well with several new features. As the player smashes gems, their own Mii will react to the combos and score to add a bit more excitement to the game. The Nintendo WiFi Connection will also come into use as well which will allow you to share scores with players all over the world as well as compete with others to give the game a bit of multi-player madness.
Paul Breslin, General Manager at PopCap Games' European HQ said: "We are delighted to bring Bejeweled 2 to the Wii™ in Europe, Australia and New Zealand. PopCap is committed to making our games available for everyone – everywhere so this launch is a significant milestone for us".
Bejeweled 2 is without a doubt the most successful puzzle title of all time with over 350 million downloads and 50 million units already sold, and there is no doubt that now Nintendo Wii owners will be grabbing this version just as fast. If you have been looking for a new WiiWare title, Bejeweled 2 is one of those that seems to be a must for just about every console these days and at just 1000 points, the puzzler has already proved again and again that it is well worth the price of admission. Bejeweled 2 is now available for download on the WiiWare in AU, NZ, and the EU as well as U.S. so there is now no excuse not to add this addictive puzzler to your collection, whether it be Wii or any of the many other consoles Bejeweled 2 graces.