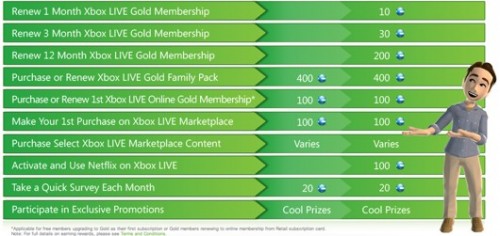 Xbox Live has launched their Rewards program today that has been tested throughout the year to those lucky few that were accepted. That means that you can now sign up for the rewards program completely free of cost and will be able to receive rewards on your future purchases/renewals/activities. Keep in mind that the rewards are currently only available in the United States and the United Kingdom.
So this means that players will be able to get Microsoft Points for doing various things that you would normally have done either way. For renewing your Xbox Live membership you will receive a set amount of MSP for free, or activating Netflix or even taking surveys that happen every month. There is some mystery still on spending and receiving points as there was no mention of how much you have to spend to get some free.
This program is available for Silver members as well, but the amount of points that they receive and have the option to receive in general is more limited. Now if only they would give past rewards for all of the different renewals and spending we have done in the past, sort of like back pay rewards. Also what if you already are using Netflix, will you miss out on free 100 points? But still free things for doing things we've done before is always good news!