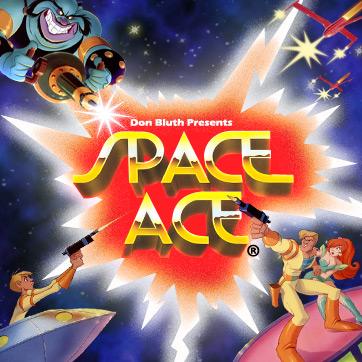 Dragon's Lair fans can now have a reason to log into the DSiShop this week as Space Ace, the follow-up to the popular fully animated arcade title has now touched down as a DSiWare title on the DSiShop. There have been of course MANY versions of Space Ace over the years in compilations all the way up to the Nintendo Wii and crossing the PC & other consoles since the original 1984 launch of the title, but either way this DSi offering looks to stay true to keeping all of the magic from the original title while utilizing the touch screen for control to create a fresh experience.
If you have no clue what Space Ace is all about, here is a brief rundown of what to expect from the story:
In Space Ace you play the heroic Ace who must stop the evil Commander Borf from taking over the Earth! Borf plans to reduce all of humankind to infants and take over the planet. Only two people have the courage and strength to stop Borf and save Earth: the beautiful Kimberly and the heroic Ace. But as they approach Borf's stronghold, Ace is hit by the Infanto Ray, changing him into a child, and Kimberly is kidnapped by the evil madman! The fate of Earth is in your hands!
DSi owners can get their hands on Space Ace as of today for 800 Nintendo points and hopefully in the future we can see even more Dragon's Lair titles come the handheld. You can check a handful of screenshots below and while your at it, go download Space Ace and show this classic some much needed love.