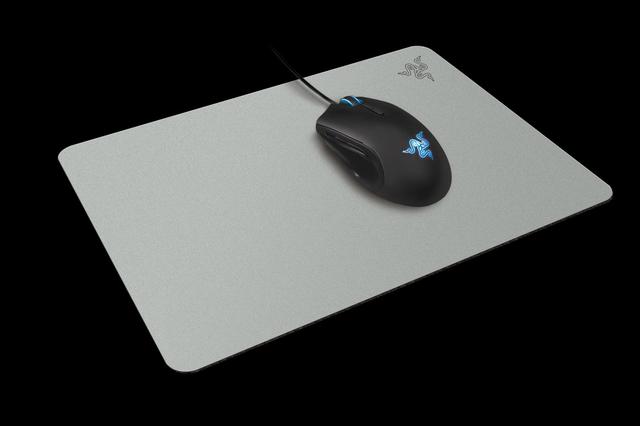 Razer is known for making high end PC-gaming products without a doubt, but the company is destined to take their highly popular Razer Destructor, a high quality mouse mat to the next level with the newly announced Razer Scarab. What makes this interesting is that Razer are actually promoting this product as more of a sequel to the original Destructor mat to better compliment present and future products from the company.
Here is an official statement from Razer on the release of the Scarab:
"With this sequel, we focused on enhancing the Fractal surface coating so that gamers will improve their game even further. It's all you need to win in life," said Robert "RazerGuy" Krakoff, president of Razer USA, "And in PC games of course. The Razer Scarab is for gamers who prefer hard surfaces, high performance areas, effortless swipes and absolute tracking."
Alexey "Cypher" Yanusheuski of Team Serious Gaming, world champion in Quake Live said of the Scarab, "A mat like this makes keeping up with the high intensity of Quake easy. I look forward to further improving my rocket jump technique and upping my frag count."
Olga "Pachella" Pak, Counter-strike 1.6 world champion with Team Mousesports said, "Razer paid special attention to the needs of FPS gamers when developing this; improving accuracy and now the Scarab is an indispensable accessory to complement my high-dpi gaming mouse."

What makes the Scarab the awesome mat it is comes down to Razer's Fractal 2.0 surface coating. It establishes a highly responsive and uniform tracking system perfect for optical and laser mice sensors. It's been finely-tuned to balance between speed and control to help acquire targets more accurately.
Razer even included a lightweight carrying case that not only protects the Scarab, but is a sweet folio to store documents for your job as a tax accountant by day, l33t gamer by night. It even looks great, guaranteed to turn heads at the next LAN party you destroy.
Features Include:
Fractal 2.0 surface coating for high performance
Optimal performance for both laser and optical
Hard mouse mat providing precise tracking
Improved rubber base for greater stability
Large size suited for most gaming environments: 350(L) x 250(W) x 3(H)mm
Reinforced carrying case for optimal stowing
A feeling of awesomeness during usage
Nothing like another top of the line product from Razer to end the year and for those looking for the perfect (quite literally) mouse mat for their gaming needs, it seems that you can look no further than the Scarab. The Scarab releases on Jan. 1st of 2011 at a AU price of $59.99. For more information about the Razer Scarab, please visit www.razerzone.com/scarab.