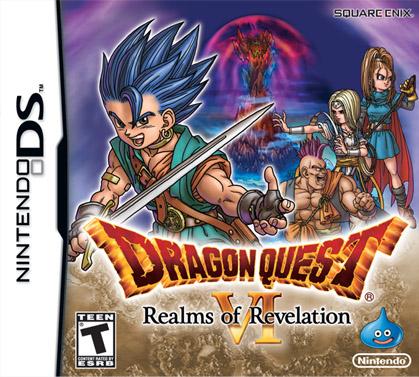 As someone who just got into the Dragon Quest/Warrior series in the past few years, I can easily say the series as a whole has grew to be one of my favorite RPG franchises period. Nintendo have now announced that the once Japan Exclusive Dragon Quest VI will now be headed overseas and on to the Nintendo DS with the new title, Dragon Quest VI: Realms of Revelation.
This title has a bit of history to it as it was originally released on the Super Famicom over 15 years ago and later ported to the Nintendo DS in Japan with a full overhaul back in January. Now as for story, Realms looks to be more of the traditional Dragon Quest fare with a hero trying to save the world, but of course if it isn't broke, don't fix it and that should be great news to anybody who imported this title as it is staying true to the original formula all the way.
Here is a look at the Official Announcement from Nintendo:
DRAGON QUEST VI: Realms of Revelation features a rich storyline that leads players through a multitude of captivating worlds as they gather allies and battle fierce monsters on a quest to defeat evil forces. With updated graphics and more than 15 character classes to choose from, new and experienced players alike can dive headlong into the timeless role-playing excitement of the DRAGON QUEST franchise anytime, anywhere. They can even enjoy special features such as switching between character classes and letting monsters, such as Slimes, join their party.
"Millions of players around the world have discovered the timeless fun of DRAGON QUEST," said Marc Franklin, Nintendo of America's director of Public Relations. "The arrival of DRAGON QUEST VI: Realms of Revelation in North America will give fans unique access to a classic game in the series for the first time, offering new ways to explore and enjoy the DRAGON QUEST universe."
I know I can't be the only one hyped for this one as there really is nothing like the Dragon Quest games with the classic JRPG formula of grinding and leveling that fans should already know and love. Nintendo have already dated the North American release for February 14th, 2011. As for the rest of the world, the dates have yet to be announced but I am sure we will hear more on that soon enough. For now you can check out the new trailer below and check back as we will bringing you more coverage of Realms of Revelation as it is released.