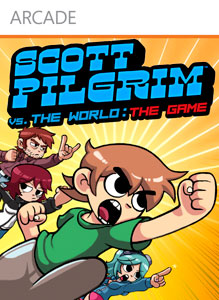 Scott Pilgrim Vs. The World has finally received the Knives Chau add-on pack ont he XBox 360 and you can now download it. This Add-on adds Knives Chau to the bunch of characters within the game, as well as a PvP arena, a special dodgeball mode and drop-in, drop-out offline co-op (much appreciated!). There is only one problem, the DLC isn't working for everyone.
A bunch of players who have already dropped the small amount of Microsoft points to download this DLC  are stating that they can't access any of the content at all. Currently, it seems you need a title update to even access the game and not everyone is receiving this title update.
Some plausible fixes for now, would be to turn off your xbox and then load the game back up; or deleting and redownloading Scott Pilgrim Vs. The World in hopes to download the updated version. If none of that works, then you'll have to sit tight as Microsoft and Ubisoft attempt to work out the problems.